with this ring: ameena + sahir, part III // dallas renaissance hotel indian wedding
This is the third and final post from Ameena + Sahir's beyond lovely wedding weekend at the Dallas Renaissance hotel and in it you'll see images from their nikkah, khoba khobi and reception. If you missed them, you can catch up on their mehendi and pithi/sangeet in these two previous posts.
Saturday AM: nikkah
We had grand outdoor plans for portraits at the Dallas Arboretum before the nikkah ceremony but the weather had different, indoor plans for us when we woke up to a forecast of rain all morning long. But it just so happens that THIS GIRL loves shooting indoors next to big windows with raindrops on the glass and city views beyond them so we made some moody indoor photo magic.
This was the moment before they walked into their Nikkah ceremony. I wasn't allowed to photograph during the actual ceremony so we will pick up right as they exited the ceremony, officially marriedddddddddddddd!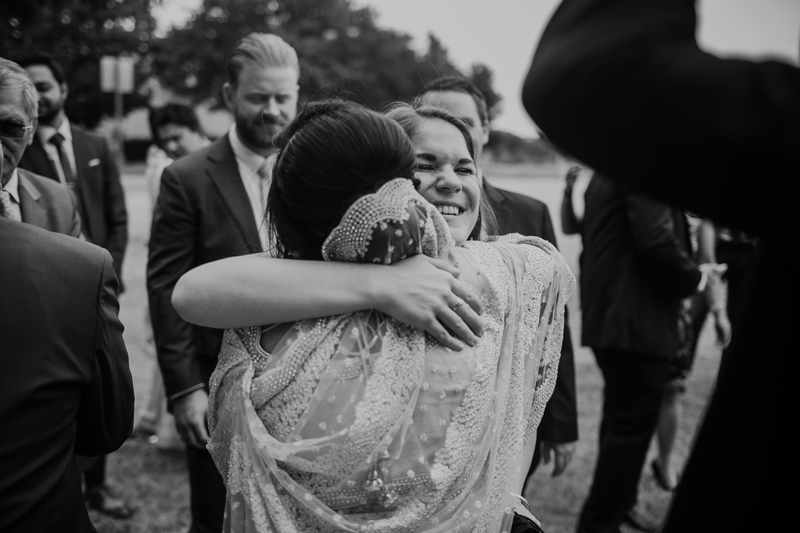 Saturday afternoon: Khoba Khobi
Saturday PM: Reception
Okay but we all agree that Ameena is a breathtaking magical princess, yes? I cannot stop thinking that when I look at this next set of portraits.
Ameena's dad and brother surprised her by bringing her beloved dog to the hotel to greet her on the big day.
Something I thought was so especially special was that Ameena shared her father-daughter dance with not only her dad but her little brother and a whole line of the other male family members who had played a major role in her life, each one taking a short turn dancing with her. Then Sahir shared his mother-son dance with his darling momma as well as both of his sisters and then a line of his family members who were important to him as well. I loved this
is ode to "it takes a village."
Sunday: farewell lunch
This was (obviously, by the title) the last wedding weekend event. Below you'll see photos of Ameena's little brother slyly performing a "magic trick" which involved a group of people lifting Sahir and Ameena off the ground so that Ameena's family/friends could steal Sahir's shoes right off his feet. He would then have to negotiate with them to agree on terms of how often he and Ameena would come back to DFW to visit and they drove a pretty hard bargain (spoiler alert: the visit count got pretty high before he got any of his shoes returned hahaha).
You guys, I did it! For the first time in YEARS I blogged an entire multi-day Indian wedding! I so enjoyed telling Ameena + Sahir's wedding day story through photos not only because they themselves are such ABSOLUTE GEMS OF HUMANS but because getting to document over the course of three days as they were celebrated and surrounded and supported (and, yes, at times also tricked out of footwear) and LOVED in the start of their marriage by all their friends and family is such a joy joy joy to my soul. Thank you, Ameena and Sahir (and all of your family and friends). Thank you for inviting me into your wedding weekend, for treating me with so much genuine warmth and kindness and for trusting me to tell this story for y'all. I have so much love for y'all!