This is the third and final post from Ameena + Sahir's beyond lovely wedding weekend at the Dallas Renaissance hotel and in it you'll see images from their nikkah, khoba khobi and reception. If you missed them, you can catch up on their mehendi and pithi/sangeet in these two previous posts.
Saturday AM: nikkah
We had grand outdoor plans for portraits at the Dallas Arboretum before the nikkah ceremony but the weather had different, indoor plans for us when we woke up to a forecast of rain all morning long. But it just so happens that THIS GIRL loves shooting indoors next to big windows with raindrops on the glass and city views beyond them so we made some moody indoor photo magic.
This was the moment before they walked into their Nikkah ceremony. I wasn't allowed to photograph during the actual ceremony so we will pick up right as they exited the ceremony, officially marriedddddddddddddd!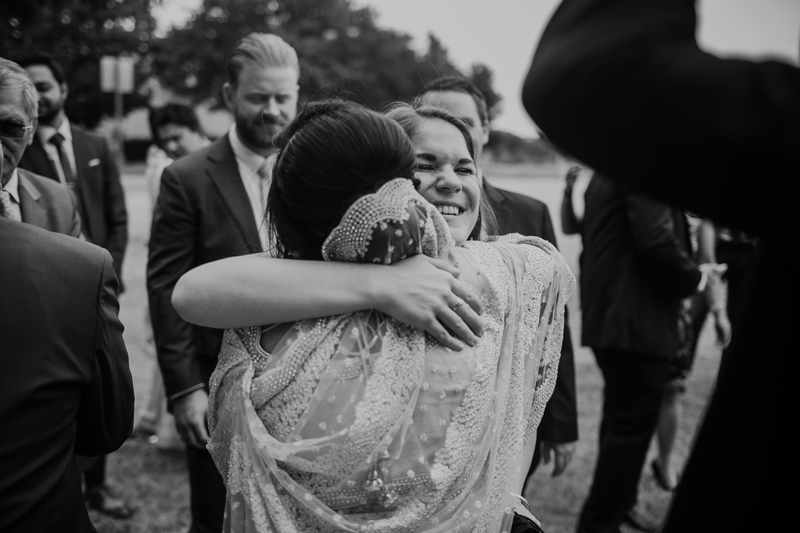 Saturday afternoon: Khoba Khobi
Saturday PM: Reception
Okay but we all agree that Ameena is a breathtaking magical princess, yes? I cannot stop thinking that when I look at this next set of portraits.
Ameena's dad and brother surprised her by bringing her beloved dog to the hotel to greet her on the big day.
Something I thought was so especially special was that Ameena shared her father-daughter dance with not only her dad but her little brother and a whole line of the other male family members who had played a major role in her life, each one taking a short turn dancing with her. Then Sahir shared his mother-son dance with his darling momma as well as both of his sisters and then a line of his family members who were important to him as well. I loved this
is ode to "it takes a village."
Sunday: farewell lunch
This was (obviously, by the title) the last wedding weekend event. Below you'll see photos of Ameena's little brother slyly performing a "magic trick" which involved a group of people lifting Sahir and Ameena off the ground so that Ameena's family/friends could steal Sahir's shoes right off his feet. He would then have to negotiate with them to agree on terms of how often he and Ameena would come back to DFW to visit and they drove a pretty hard bargain (spoiler alert: the visit count got pretty high before he got any of his shoes returned hahaha).
You guys, I did it! For the first time in YEARS I blogged an entire multi-day Indian wedding! I so enjoyed telling Ameena + Sahir's wedding day story through photos not only because they themselves are such ABSOLUTE GEMS OF HUMANS but because getting to document over the course of three days as they were celebrated and surrounded and supported (and, yes, at times also tricked out of footwear) and LOVED in the start of their marriage by all their friends and family is such a joy joy joy to my soul. Thank you, Ameena and Sahir (and all of your family and friends). Thank you for inviting me into your wedding weekend, for treating me with so much genuine warmth and kindness and for trusting me to tell this story for y'all. I have so much love for y'all!
I just love days full of story.
I'm sharing some of my favorite captures from Ameena and Sahir's pithi and sangeet at the Dallas Renaissance hotel and let me tell you, this day (and all of their wedding weekend) was chock FULL of story and love and family and friends and celebration and FUN (and tumeric — ammiright, Sahir?). I've always been inclined to photojournalism but I think even moreso now that so many photos seem to be "for the 'gram" that I crave all the more to capture the pureness, the beautiful unhindered reality of days like this. So enjoy some of the story of the second day of Ameena + Sahir's wedding weekend. It was an absolute joy and privilege to be there to tell it. (Also, in case you missed it, you can view images from their mehendi and some of my favorite portraits of ever here.)
Part I // Pithi
Little brothers, ammiright?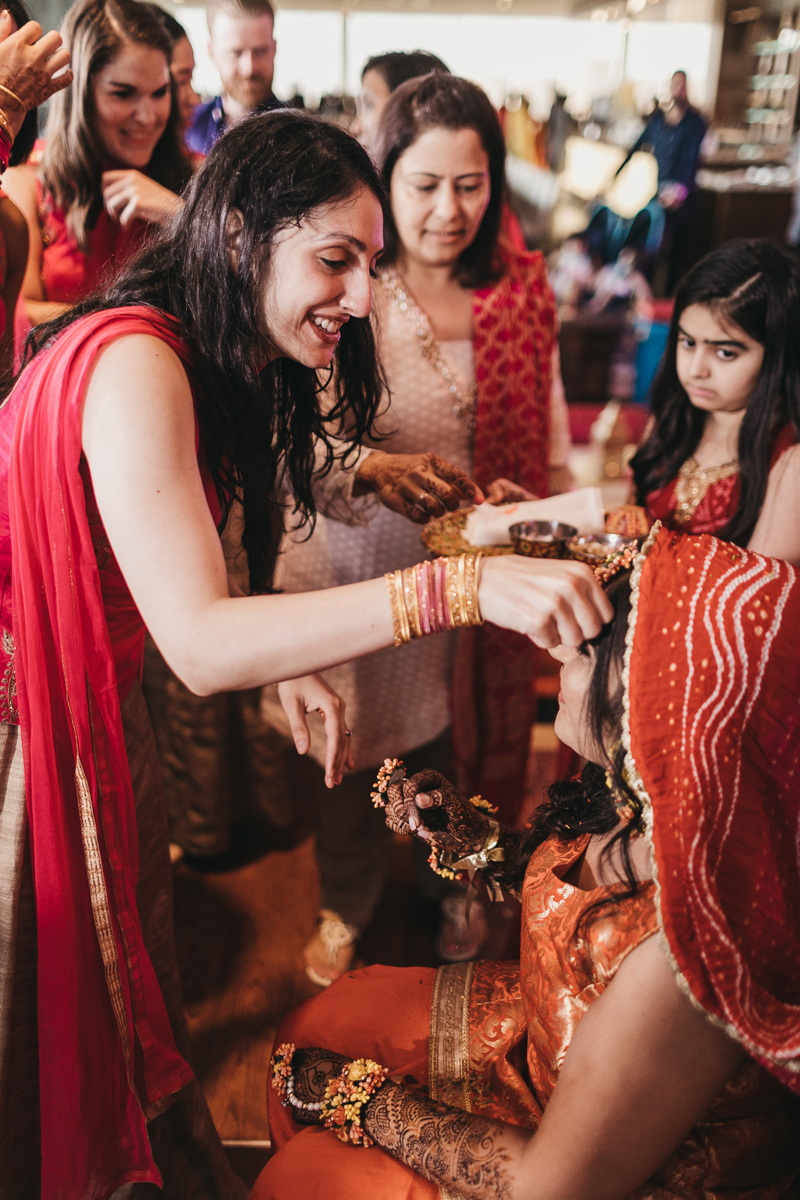 Okay so these next few image comparisons between Sahir's pithi and Ameena's pithi just crack me up. Ameena is handed babies to snuggle while Sahir starts to get completely and utterly smothered in tumeric paste hahaha.
Ok, so I can't stop laughing at how this next part began (and Sahir's sweet mom's genuine surprise/reaction) — keep your eye on Sahir's brother in law coming up behind him in this next GIF.
And the "best sport" award goes to SAHIR.
part II // Sangeet
After a shower and outfit change came food, performances from friends and family plus allllllllll the dancing
I'll be back (*hopefully* soon) with the next post from Ameena + Sahir's third day of wedding festivities — their nikkah and reception! Wahoo!
You guys, I was editing these photos while also talking with a friend and I kept interrupting our conversation to shout things like "THIS PHOTO IS SO DREAMY!" or "AMEENA AND SAHIR ARE JUST SO SWEET TOGETHER!!" or "OK BUT AMEENA ISÂ ACTUALLY A DISNEY PRINCESS!" And it was in the midst of this incredibly interrupted conversation that I realized I should probably just blog these photos.
Six years ago I photographed my first Indian wedding because Nabila + Aly trusted me to document their multi-day wedding weekend even though I had no experience with Indian weddings before that point. Every single time I get the joy and privilege of documenting another beautiful Indian wedding I always, always think of Nabila and Aly and how thankful I am to them for giving my first "in" into this beautiful world. I'm forever grateful to them. I've since photographed seven other Indian/fusion weddings over the years and, while they're some of my most favorite images I've taken (not to mention, clients I've had the honor of working with), I'm pretty sure I've only blogged two or three of the weddings because if I struggle to narrow down images to a blogpost for a single day wedding then multi-day weddings certainly never get narrowed down enough to make it to a blogpost. SO I'm trying something new! I'm going to (attempt to) blog Ameena + Sahir's exquisite wedding weekend day by day, as I edit it.
This post is from the first of their wedding events — the Mehndi. This was the most low-key of all the events, mostly henna + mingling with all their family and friends who had come into town for their wedding + sharing delicious food. Something I hadn't ever seen before and particularly enjoyed was the singing game they played at the end of the evening where Sahir's friends and family competed against Ameena's friends and family. The bulk of this post (and the inspiration of all the shouting referenced at the beginning of this spiel) is the portraits we took of Ameena + Sahir together. They hadn't seen each other for about three weeks leading up to this and had been so busy with all the wedding prep so it was so refreshing to pull them away from everything and everyone and just give them a moment together to breathe deep and just be. Together. It's one of my favorite things to offer to brides and grooms on their wedding day — moments to steal away from the hustle for even just a few minutes and feel deeply. They actually texted me from their honeymoon to tell me that each time Ameena went to take a photo of Sahir on their travels she instructed him to take a deep breath like I had taught them and it made me smile so huge. One of my biggest goals is to use photography as a tool to help clients be present on their wedding day so I was thrilled to hear Ameena and Sahir were still using what I had taught them even as they travelled around the world.
Ok wow, that's enough typing, Jillian. On to the photos. Enjoy some of my favorites from Ameena + Sahir's Mehendi night at Noah's Event Venue.
 I should be back in the coming weeks with my next post to share their Pithi at the Renaissance Dallas with y'all – YAY!