You may remember my dear friends, Brittney and Joel, from their FIRST "with this ring" blogpost from last year. That post was from their Justice of the Peace marriage ceremony, followed by a newlywed portrait session. It was such an incredible day to watch unfold.
Two weeks later, Joel returned to his Army post in Alaska and quickly thereafter deployed to Afghanistan.
It was a difficult season. Difficult, but refining, I know Brittney would tell you. I praise Jesus for how He faithfully carried them both through the deployment.
With Joel back it was time for a celebratory wedding, where all of their friends and family were invited to gather around them and all celebrate together this marriage on one crisp December Saturday.
Interesting tidbit about the wedding site — it all took place on my family's farm in Granbury! Because Brittney didn't know the exact date of Joel's return or his resulting leave from Alaska, she couldn't plan far enough in advance to book a standard wedding venue so my parents and PaPa graciously offered to let her have the wedding out on their land.
As if this wasn't enough, my dad also built this ceremony backdrop out of old barn wood that Brittney gathered for the wedding. Isn't my dad so SWEET??
These wintery boutonnieres were crafted entirely by Brittney and bridesmaids the evening before the wedding. Yeah, we're pretty talented like that.
Yes, "we."
I was a bridesmaid. And yes, I was the photographer. I just really couldn't let go of either job so just decided to play both roles!
This gorgeous "Texas-meets-Alaska" bouquet was crafted by my super-talented uncle James of Scott's flowers in Stephenville. Love. It.
Keeping with the other untraditional aspect of the wedding, Brittney's maid of honor was (and still is) serving as a missionary in England but sweet Meagan surprised Brittney with a wedding day phone call while she was getting ready for the day.
Joel and Brittney opted for a first look and Joel's reaction to seeing his bride walk to him in her wedding dress was priceless. One of the things I enjoy most about Joel is that I can constantly see his adoration of Brittney just broadcast across his face — there is no hiding how much that boy treasures that girl.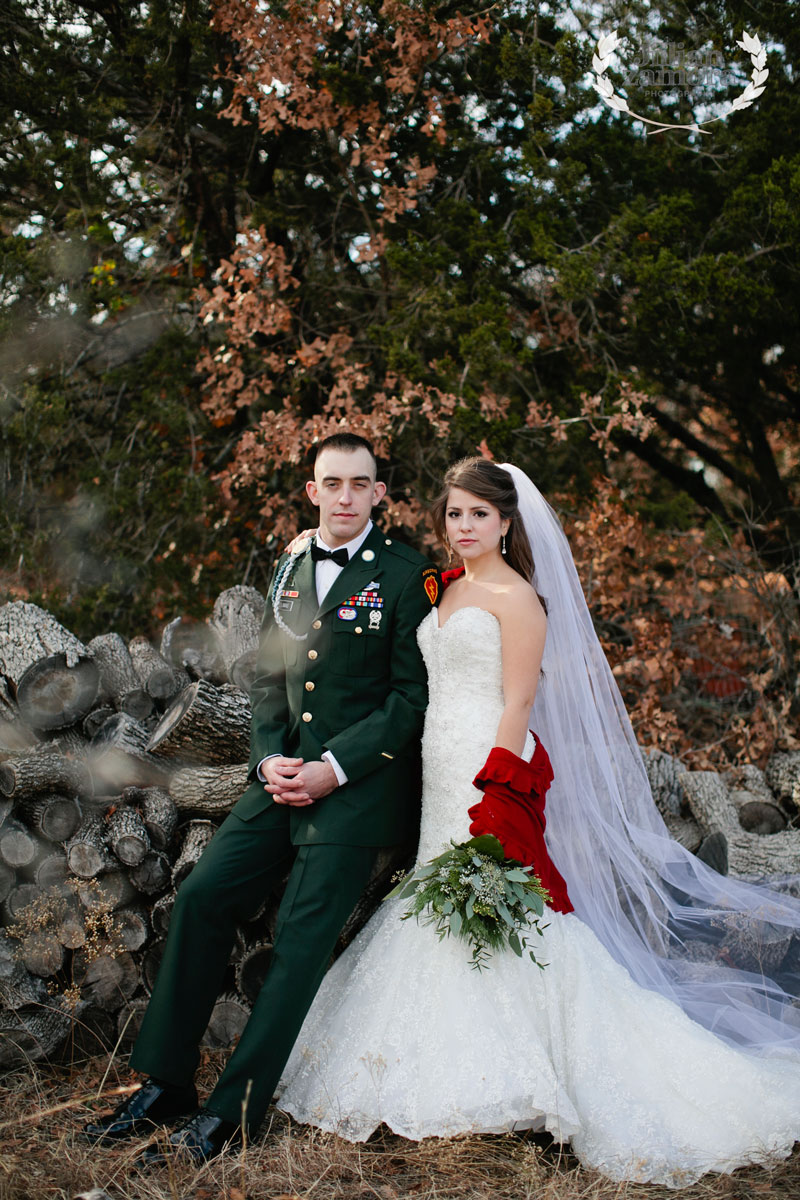 After bride-groom portraits we met back up with the wedding party eagerly waiting on down the road.
Most. adorable. flower girls. And man-oh-man do they adore Ms. Brittney.
Here was the portion of the day when I handed the camera off to James and stepped into some of the photos!
And in just the quickest of moments before the ceremony started I took a swing by the reception tent to snap some detail photos of everything finally all put together.
The following ceremony photos are ALL JAMES because I picked up my bouquet and walked down the aisle to stand next to my friend as she  and her husband declared their marriage vows in front of friends and family.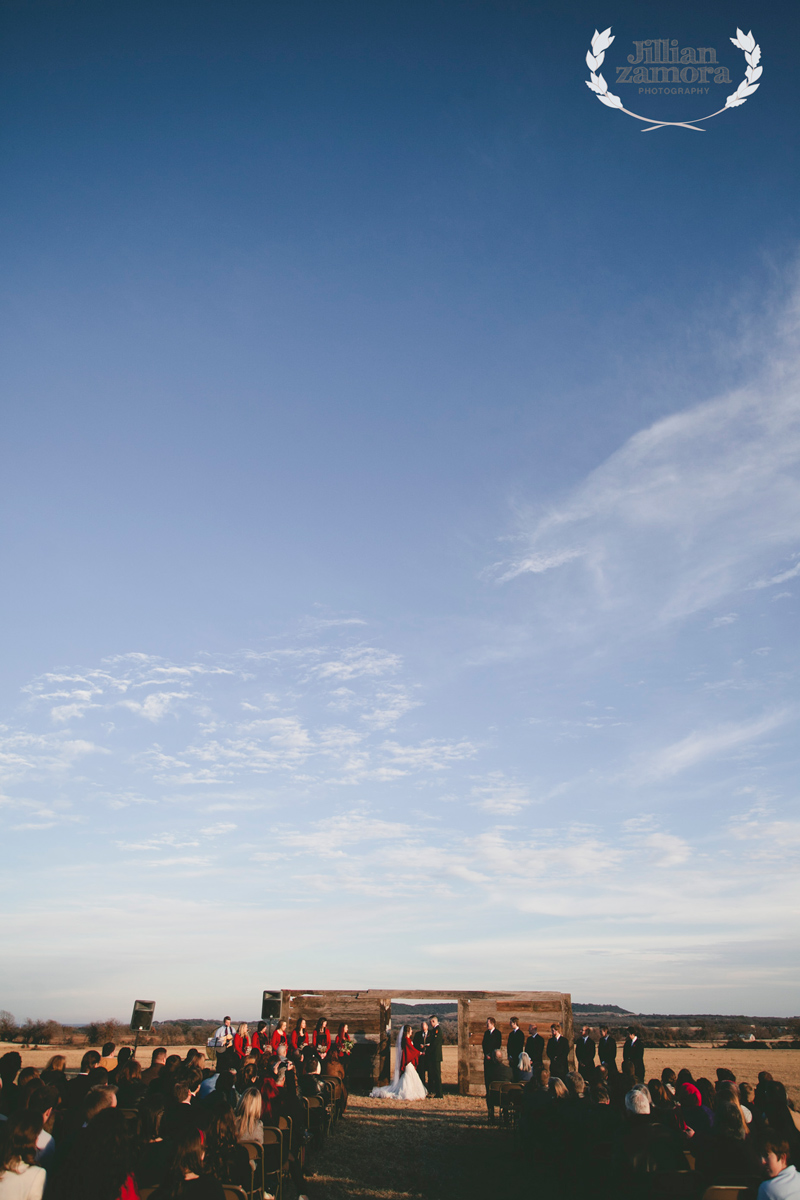 James did SUCH a great job documenting the ceremony all on his own AND (I found out later) simultaneously warding off an asthma attack. Everyone give my asthmatic husband a round of applause.
A super-special portion of the reception was when they played a video (that my talented brother put together for them) that showed a portion of their Justice-of-the-Peace ceremony in it.
 And what a celebration it was, Brittney and Joel.
I'm thankful to have been a part.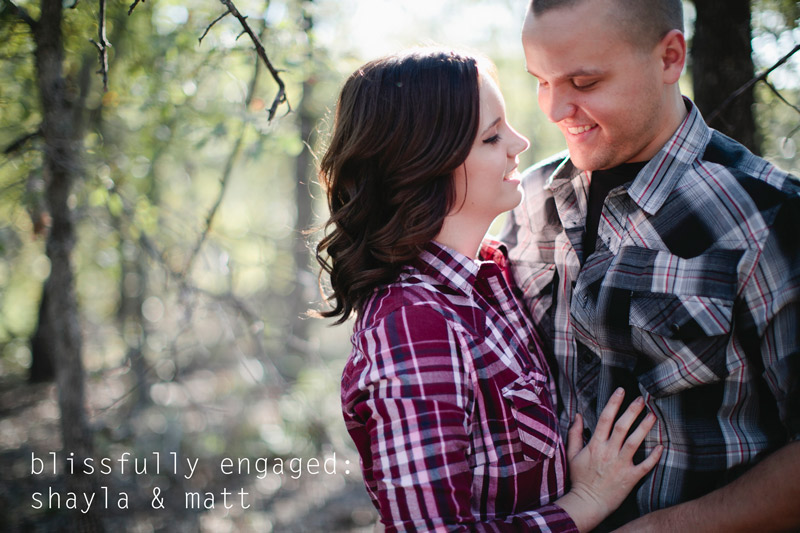 Happy December 28th, everyone! I hope you all had the merriest of Christmases. It's been such a busy season with lots of traveling between mine and James' families and limited internet access but I'm so pleased to get back to blogging and ESPECIALLY with this particular engagement session.
Shayla and Matt are of the outdoorsy persuasion so Shayla's vision was for a camping engagement session. It was just SOFUN working within this vision and I'm SOPLEASED with the resulting images. It helps that Shayla and Matt are just so. dang. cute. together.
Shayla, you are for-real stunning.
And what kind of camping-themed session would it be if they didn't build a fire and make some s'mores?
 Shayla and Matt, I'm already so excited for your wedding! October cannot come fast enough.
Hello, blog. It's been a while since I did a full photo post but I'm SO excited to be back and I'm picking up right where I left off! I'm glad to be back with such a lovely, lovely wedding for a lovely, lovely couple.
I first met Jessica and Matt my freshman year of college. They were both older than me and had started dating the summer before I got there. Did I know this information because Jessica and/or Matt had personally confided this in me? Nope. I knew it because everyone was talking about what an ADORABLE couple they were together.
This was my first impression of the two of them.
And that is my current impression of them as a couple to this very day. They're perfect for each other.
We started off the day at First Baptist Lewisville with some detail shots of the lovely birdcage flower arrangements and some final prep shots of the bride and groom.
Matt and Jessica opted to do a first look before their wedding ceremony and I have to say that Matt has had the best first look reaction I've ever had the privilege to witness.
After it was completed James ran over to me with his camera and said, "Look! He looks like a little kid in a candy store."
And I'd say that is a perfectly accurate description.
(Jessica, you had a GREAT reaction too.)
Get it, guys.
Jessica, you are just radiant. Radiant.
After a sweet moment with her dad, Jessica and the girls headed outside to start the wedding party photos off right — lots and lots of laughing.
All of Jessica's bridesmaids donned handmade necklaces that one of our super-talented metalsmith friends, Chelsey, created!
I can't remember at exactly which point in the ceremony that I caught my eyes tearing up. I was overjoyed that these two — these two individuals that I couldn't imagine ever fitting quite as nicely with anyone else, ever, than the person they were standing next to up on that stage — were becoming husband and wife.
After the ceremony it was off to the Bridlewood Golf Club for a reception filled with some of the sweetest centerpieces imaginable.
After cutting the cake, James and I snuck Jessica and Matt out of the reception for a few minutes to take a few more bride and groom portraits on the beautiful grounds of Bridlewood Golf Club. I love to make the most of every moment I have alone with the bride and groom on their wedding day because I luuuuuuuuuuuuurve taking bride-groom portraits.
Best.
Garter toss.
Ever.
 And there you have it.
Jessica and Matt. Married. Perfectly.