Lezlie and Justin.
Justin and Lezlie.
Just thinking about how sweet these two are together makes me smile.
The three of us got together a couple of weeks ago in Farmers Branch for their engagement session that started out with a picnic because picnics are kind of "their thing." They went on a picnic on their first date and they also enjoyed a picnic right before Justin proposed. Fweet!
Having a cup of hot chocolate with marshmallows may have segued into  a marshmallow fight of sorts . . .
Can we talk about how great an outfit choice Lezlie made by adding in that pop of pattern and color with that gorgeous scarf? Loved. it.
JUST LOOK AT THOSE ADORABLE FACES?? Are those not the most adorable facial expressions ever?
Justin is a fellow lover of photography, as well as a super-talented videographer. James and I have worked several weddings with Justin Lowe Productions, and love referring him to our brides and grooms for wedding videography.
Root beer is another one of Justin and Lezlie's "things" so we integrated it into the session as well.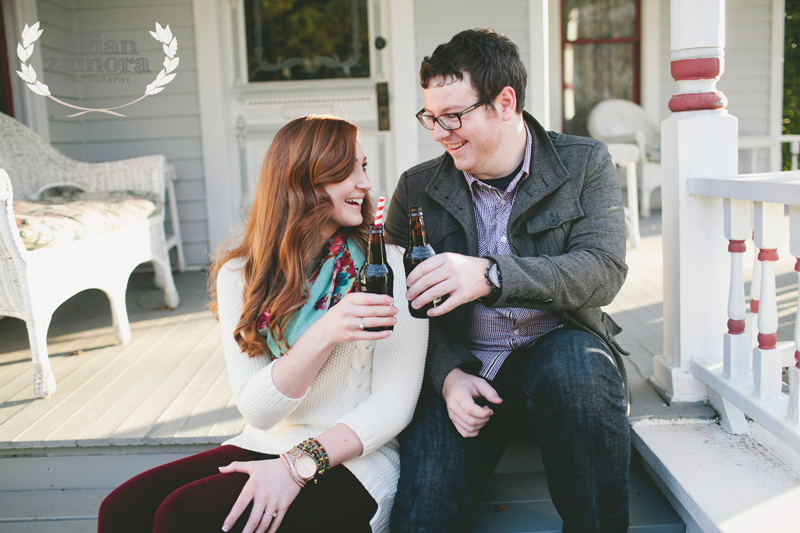 One snazzy outfit change later, we wrapped up the second half of the shoot.
 Lezlie and Justin — April cannot come quickly enough because I cannot WAIT to have the two of y'all back in front of my camera again. I'm sure that's the only reason y'all are looking forward to April as well, right? ]
Happy Friday, all!
Blog readers, don't forget to enter/share the JZP wedding photography giveaway! For details, read this blogpost.
So I sat and thought for quite a while about which meaningful thing I could say about Sara and Brent to start out this blogpost, or which dear/wonderful/sweet attributes of theirs to compliment first (for they have many) but maybe I'll just skip that part and let the photos do the talking.
Sara and Brent it was an honor to photograph your wedding day. My heart could seriously not be happier that y'all are husband and wife.
Their venue was Storybook Ranch in McKinney and I just cannot wait to shoot another wedding there because it was just such a fun environment to work with. Bonus: This venue is also the home to River Ranch Educational Charities which helps underprivileged and special needs children.
This next photo I think does a pretty good job of describing Brent — good-natured, kind-hearted and bursting at the seams with love for Sara.
As for Sara, out of all the women in the world Brent holds her high, high, high above all the rest. And I think that says a lot about how wonderful a person Sara must be.
At this point in the day he had not yet seen Sara, but as his facial expression shows, he was very excited for his first look with his bride that was to happen in a short matter of minutes.
After some sweet moments with just the two of them, the wedding party came out to join in on the fun.
Something I thought was particularly special about this wedding day was that a close friend/mentor of Brent's (Chris, above) was the officiant of the ceremony.
Yah. Flower girl cuteness.
Guys, when I look at photos of the ceremony I seriously cannot help but get so overwhelmed by emotion at how earnestly excited and dearly Brent gazed at Sara the entire time. It was just the very best thing.
YAY MARRIAGE!!
 
This ring-bearer won my heart when I saw him reading his Star Wars comic book in the middle of the reception. He was so caught up in it he never even noticed me take these photos.
Sara and Brent, y'all are beautiful human beings with beautiful hearts which I know will make for a beautiful marriage.