with this ring: rachel + dan, barr mansion wedding photographer
Storytelling days — those are my favorite. The ones that tell a real narrative, the ones with deep feelings and, yes, the ones when things don't go perfectly according to plan but it's always alright because DANGIT, YOU GET MARRIED ANYWAY.
Rachel and Dan's Barr Mansion wedding was one of those days. They had planned for a beautiful outdoor ceremony but starting that morning the rain came pouring. The rain did not act like it cared even a little bit about their beautiful outdoor ceremony plans — so rude. But that wasn't about to keep Rachel and Dan from enjoying their Austin wedding day.
Come ceremony time, guests were ushered in under umbrellas, rain drop marks on their wedding clothes, into the reception space where the floral archway had been moved indoors. This space would just have to make due.
Until the rain stopped.
Everyone was looking out windows to confirm again and again that indeed that was sunshine they were seeing. Then came the scramble — Reassemble the archway outside! Wipe down those chairs! Everyone make your way back out to the garden because this here was meant to be an outside wedding!!
Rachel and her father walked down the aisle to the tune of "Here Comes the Sun" (a choice made well before the forecast would prove how unbelievably appropriate a song that would be in that moment) and Dan's beaming smile was without doubt giving the sun a run for it's money. Afterwards they dined slowly, sharing conversation, food and hugs with all their treasured guests.
Yes, storytelling days are my favorite.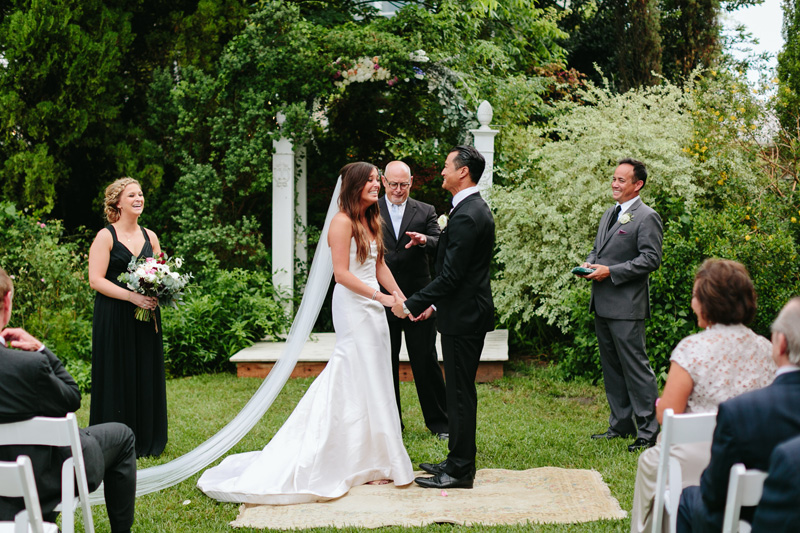 Thank you so much, Rachel and Dan, for entrusting me with your wedding day.
And thank you also to my little bro and second shooter on this day, Jacob. Not only did he do some strong storytelling with his images, but he also did most of the driving to and from Austin  that day. You da real MVP.