bekah and graham
Bekah and Graham are just always going to be one of those couples who are especially dear to my photographer's heart. When I met these two their freshman year in college they had already been dating for something like four or five years. I don't know if any of you other photographer's out there have that list in your mind of couples who you secretly reeeeeeaaaaalllllly want to photograph when they get engaged and married? Bekah and Graham were on my list.
So when Bekah placed such a high value on having me as her wedding photographer that she chose her wedding date based off of which Saturday I had available for her wedding month, I was floored. Overwhelmed. Ecstatic.
That kind of JZP devotion means the world to me. It's humbling and it makes me want to do everything within my power to document this day to the fullest of my ability. Don't get me wrong, I ALWAYS go to a wedding wanting to do the best job I have ever done before, but this gesture intensified that desire to pour myself into creating the best images I possibly could.
Bekah and Graham, know that I treasure you and it was the highest honor for James and I to be able to document the wondrous day that y'all became Mr. and Mrs. Graham Grace.
While the girls primped at Bekah's parent's house, the groom and the rest of the guys were doing their own form of primping at one of the groomsmen's homes before Graham headed to the Nicks' for the first look.
First looks can hold some of the most precious of moments, when all the anticipation of becoming this person's husband or wife becomes realized in a private moment together. A moment to be giddy or a moment to be overcome with emotion or a moment just to hold each other before the hustle and bustle gets going full swing. I feel like, in a way, it allows the couple to take on the day as a team from the start.
A country girl at her core, Bekah really wanted to find an old barn to take wedding photos with. She, her twin sister, her bridesmaids, and her parents searched the area high and low — even leaving notes on gates trying to get in contact with property owners. Not long before the wedding they found this one (owned by a friend of her dad's) about 20 minutes away from the church and secured it as the location for bride-groom and wedding party photos.
So if you're a bride whose venue doesn't offer the type of photographic backdrop you envisioned for your wedding photos, do not be dismayed! We can always plan together for an on-location first look or a set of wedding party photos.
Every time I see this photo, Bekah, I'm struck with how stunning you are. And also how goofy Graham is.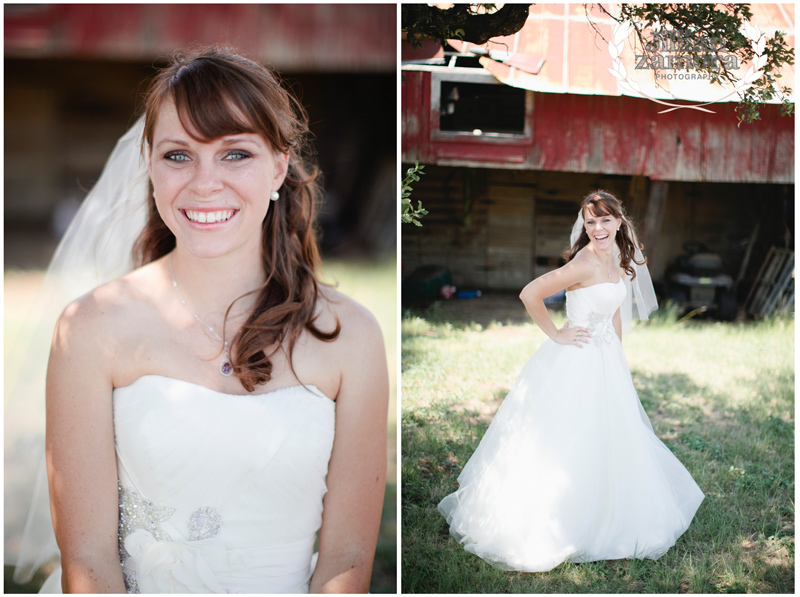 The front of that red barn may have been in direct sunlight on that June afternoon in Texas, but they had all gone to such trouble to find it there was no way anyone wasn't going to complain about stepping out of the shade for a bit of wedding party photo fun.
Soon thereafter we headed back to First Baptist Cisco for some cooling down before the ceremony.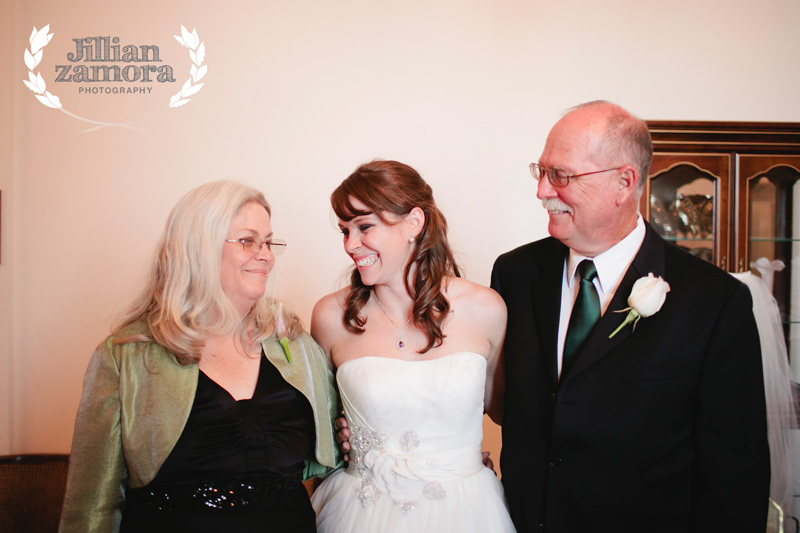 Because we had taken the vast majority of the photos before the ceremony, it was only a few quick shutter snaps before Bekah and Graham were dancing the night away at their reception.
Even though it was a bit cloudy by sunset, I snuck them outside for a few quick sunset portraits as husband and wife.
Photos like these (that James snagged!) are only part of the reason why I love Graham. The other part has something to do with seeing how well he loves Bekah.
This was a good day.
Thank you again, Bekah and Graham, for asking us to be a part.