Juli and Jared's beautiful wedding was set at the McKinney Cotton Mill — a venue I always love photographing. I could not get past Juli's great attention to detail in every single piece used in her wedding decor. All it it came together so seamlessly and fabulously! I could have spent the entire day photographing each individualized table-setting.
Confession: Juli had two DARLING sisters by her side helping her throughout the entire wedding day process, only I kept forgetting one of their names! Finally Forgotten-name-sister looks at me dumbfounded (with legitimate reason) and says, "It's 'Jillian.' It's YOUR name."
I didn't forget it again after that.
Juli and Jared chose to go the route of a first look — this allowed them some intimate moments alone in the midst of all the wedding day hustle and bustle and also allowed us to take all of the formal portraits before the ceremony because Juli was adamant that she did not want to miss out on their reception that she had put so much effort into. So miss out they did not!
SERIOUSLY, JULI!! THE DETAIL!!!!
One of my most favorite moments from the reception was when Juli's father and his college a cappella group serenaded the couple with their soulful crooning.
Jared was even lucky enough to get pulled up on stage with the quartet for a special song!
And Juli just sat there and smiled. Oh, that Juli-smile. So, so beautiful.
Best wishes to Juli and Jared and a lifetime full of attention to all the sweet details along the way.
This was a good day, this wedding day of Erin and Mike's.
It was a nice, slow morning with Erin and her bridesmaids eating lunch and getting ready at Erin's super-generous boss' Â super-beautiful home . I loved all the time I had for creating detail photos of Erin's bouquet, shoes, jewelry and dress.
I'm really proud of the pop-culture relevancy of this detail shot of the handkerchiefs Erin's soon-to-be mother-in-law had gifted her for the wedding.
After final touch-ups at the house, we packed up and headed to the wedding venue — Cityplace.
Sidenote: Erin's mom was one of the sweetest women I have ever had the pleasure of working with on a wedding day. And that same sweetness was so obviously engrained in Erin too.
Upon arrival, James met up with Mike and his groomsmen while they prepped for wedding party photos before the ceremony.
And the room we got to shoot in? Looooooooved all the dreamy fabric hanging in the open room of the 42nd floor.
Look. at. that. view.
The landscape is pretty cool too, I guess . . .
We finished up with photos in time to take some deep breaths before the ceremony.
After the ceremony we got to head back up to the wonderful 42nd floor for a few more pictures.
Favorite.
And then it was on to the reception, which was a wonderful reflection of Erin and Mike and yet another amazing view of Dallas.
I had never seen a send-off like this before . . .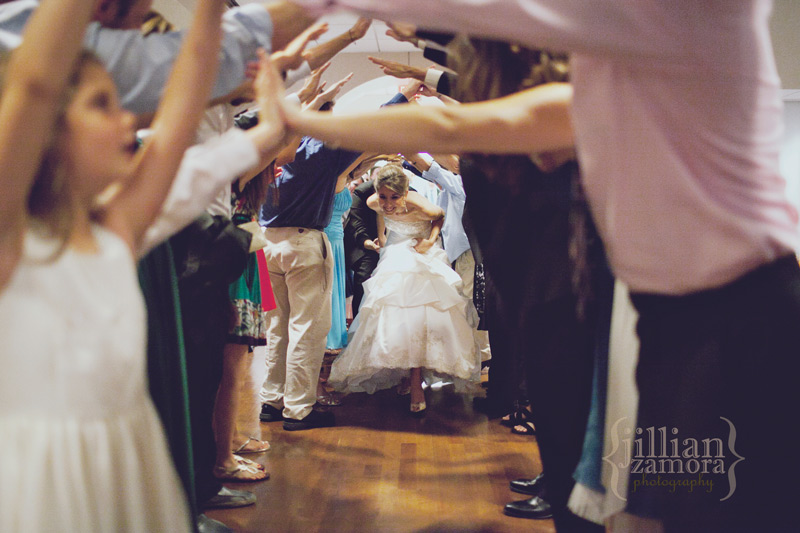 I love these last couple of images. I know the right image is a bit soft, but I love that it shows that final moment of Erin before the elevator doors closed on her wedding day, with her husband's hand reaching out to her.
Such a sweet, perfect moment.