Lezlie and Justin.
Justin and Lezlie.
Just thinking about how sweet these two are together makes me smile.
The three of us got together a couple of weeks ago in Farmers Branch for their engagement session that started out with a picnic because picnics are kind of "their thing." They went on a picnic on their first date and they also enjoyed a picnic right before Justin proposed. Fweet!
Having a cup of hot chocolate with marshmallows may have segued into  a marshmallow fight of sorts . . .
Can we talk about how great an outfit choice Lezlie made by adding in that pop of pattern and color with that gorgeous scarf? Loved. it.
JUST LOOK AT THOSE ADORABLE FACES?? Are those not the most adorable facial expressions ever?
Justin is a fellow lover of photography, as well as a super-talented videographer. James and I have worked several weddings with Justin Lowe Productions, and love referring him to our brides and grooms for wedding videography.
Root beer is another one of Justin and Lezlie's "things" so we integrated it into the session as well.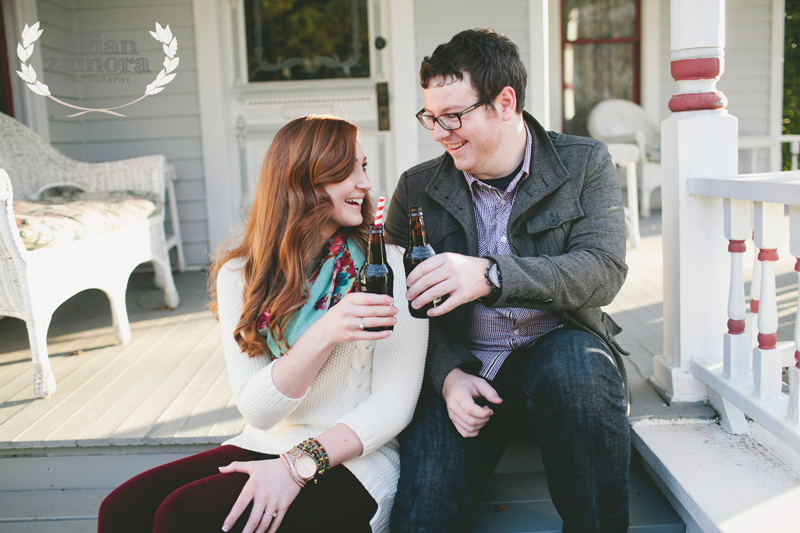 One snazzy outfit change later, we wrapped up the second half of the shoot.
 Lezlie and Justin — April cannot come quickly enough because I cannot WAIT to have the two of y'all back in front of my camera again. I'm sure that's the only reason y'all are looking forward to April as well, right? ]
Happy Friday, all!
Blog readers, don't forget to enter/share the JZP wedding photography giveaway! For details, read this blogpost.