Meet Brenna and Josef.
I will give one of my blog readers 10 points and four gold stars worth of blog-stalker-awesomeness if anyone (who doesn't already know Brenna or Josef) can name under what circumstances Brenna has previously been on the blog (in three separate posts, I do believe).
We started the engagement shoot at Recycled.
Why?
Because Brenna and Josef's favorite thing to do together is read. Specifically Josef. Specifically aloud. Specifically to Brenna.
When they're driving, when they're cooking, when they've got nothing else going on — Josef reads aloud to Brenna. Now tell me that isn't the most precious thing you've ever heard?
They've been together since high school. Sure, there was time apart here and there in the span of years from then until now. But they always came back to each other.
And now, with a wedding planned for next September, they're back together to stay.
Next Brenna and Josef wanted some pictures with the courthouse to speak to their born-and-raised Dentonite heritage.
I love this. I just really do.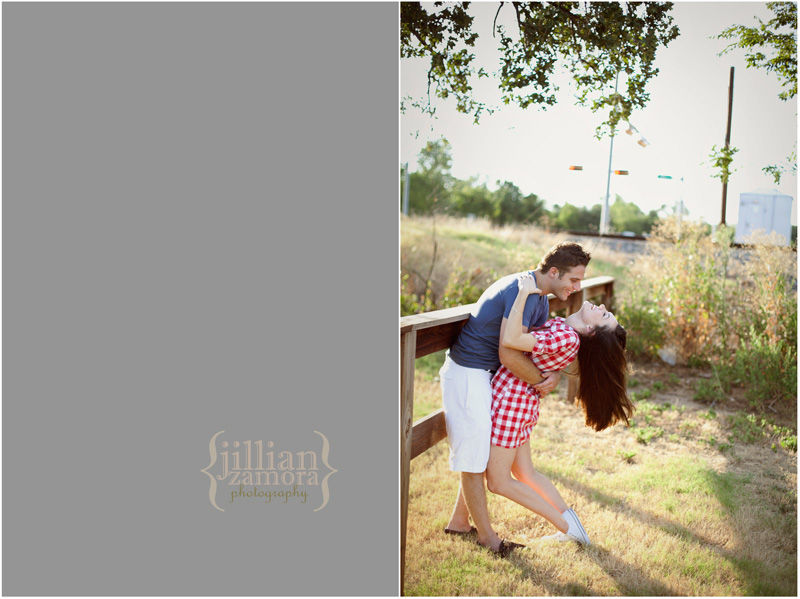 Next we spent a bit of time on some railroad tracks.
Why? Because Brenna and Josef do a lot of traveling. Specifically to each other. Specifically because Josef lives and works in Utah and Brenna in Texas.
And this, ladies and gentlemen, was where the magic first began.
I just love these above two images. Love.
I like that we end this post where this relationship started.
That's nice. Really nice.
Meet Melanie and Keith.
We started off the shoot at the Denton square at Recycled — a local music and book store that Keith and Melanie frequent.
As if looking at these two beautiful people looking at records wasn't enough, Jonathan Taylor Thomas also made some appearances in their photos. JTT. Always trying to steal the show.
After scoping out the record section we headed over to their favorite section of the store (and mine too!) — the photography book section!
Mellllllllllanie. Girl. Those CURLS are simply beautiful. Almost as beautiful as the way Keith is looking at you in this picture.
What ever it is, Melanie's got it.
For the second portion of the shoot Keith grabbed his banjo and his guitar and we headed out for the fields.
Keith's been learning the banjo for several months now, but what he's really known for is his guitar playing . . .
I just can't get over this shot. I love it, okay?
Annnnnnnnnnnnnnnnnnnd . . . wait for it . . .
. . . BANNERS!
Melanie and her friend Anne made a couple of banners out of burlap for us to work into the shoot. Nicely done, ladies. They look lovely!
Their second banner reads "God is good."
When I asked Melanie about why this phrase for their second banner she explained to me that her and Keith's relationship is what it is because of God's goodness and Jesus' salvation.
Their relationship points them to God's goodness.
"Jesus dying on the cross is what saved us from our former selves," Melanie said. "That is why God is good!"
Melanie and Keith, y'all were so great to work with — I can't stress it enough. I'm beyond excited to shoot your wedding next March!