Amy and Caleb were wed on an afternoon in late May. The day was humid and overcast, but that didn't put any sort of damper on any of those celebrating the joining of this sweet, sweet couple. The entire day was filled with giddy smiles and genuine, joyous excitement.
Amy started off her wedding day at Facial, Inc  in Plano, where her long-time friend and hair stylist Ryan Wyatt worked his magic.
Then it was off to Scofield Memorial Church in Dallas to finish getting ready.
Amy and Caleb's flowers were by Gwen Pitts of Jameel Designs. Amy had very meaningfully chosen the flowers in her bouquet to represent members of her family — the hydrangeas represented her maternal grandmother and great grandmother, who both grew hydrangeas in their gardens, and gardenias are Amy's mother's favorite flower.
Back in the bride's room, the bridesmaids were in full-swing "get ready" mode.
The pearls Amy wore were given to her by her grandmother.
That dressing room was one big, endless dance party and sing-a-long.
Amy's mother and sister/maid-of-honor helped her slip in to her stunning wedding dress.
Amy and Caleb opted to do a first look — which is where a bride and groom choose to see each other before the wedding ceremony in an intimate setting, usually it's just the two of them present.
My heart is so happy looking at this next shot — Amy walked through the doors of the sanctuary, and one second she was standing and grinning in Caleb's direction, and the next thing I knew she had taken off running down the aisle to meet Caleb at the end. That's one of the beautiful things about a first look — you can react however  you feel like reacting at the sight of your soon-to-be husband or wife. It's so special and intimate.
A first look is also designed to allow the photographer to better capture the bride and groom's first reactions to seeing each other.
Another plus is that it also allows for plenty of time to devote to wedding photos before the ceremony — for this reason Amy and Caleb were free to leave after the ceremony and spend plenty of time with their guests at their reception.
After Caleb was able to properly admire his bride, we headed outside for some naturally-lit bride and groom portraits.
Look at Caleb, just soaking up the adoration of his bride.
Just beautiful.
I basically had to pry my own hands off the shutter-release button on my camera. I could have taken photos of those two lovebirds for, well, ever.
We then brought out their super-fun (and super-large . . . in number) wedding party to join in the photographic fun. However, since I devoted so much of this blog post to lovely shots of Caleb and Amy, I'm only able to include two of my favorite wedding party shots — but just know the bridesmaids and groomsmen were all so great to work with and gave me lots of great shots of them too.
And yes, Amy did choose to have her brother as a guy-maid (?) . . . brides-guy (?) — she told Caleb she didn't want to share her brother and wanted him to stand on her side.
Caleb said, "That's fine. Then I get Nicole on my side."
And thus the grooms-girl in the next picture.
Amy's parents were both just. beaming.
Caleb's dad officiated the ceremony, so it was full of sweet, fatherly insight. He spoke so highly of Amy and how excited he was for her to marry his son. I loved it.
And for these next two shots James was in the right spot at the right time and beautifully captured Caleb and Amy praying together — I was so proud.
I love this shot of Amy's precious momma quickly making her way around the corner of the foyer to go hug her newly-married daughter.
After some formal family portraits we headed for the reception at Fairview Farms party barn in Plano.
Father-daugher and mother-son dances are especially lovely backed by twinkling string lights.
Their wedding cake was seriously the most delicious wedding cake I have ever consumed . . . and I've consumed quite a bit of wedding cake in my field of work. And it looks like I wasn't the only one who enjoyed it . . .
I believe this next picture was snapped during a Justin Bieber song and BELIEVE me when I say that there is no judgement coming from me at how into the song Amy and her bridesmaid Whitney are getting.
Both the bouquet and garter tosses were particularly dramatic, so I thought I'd share.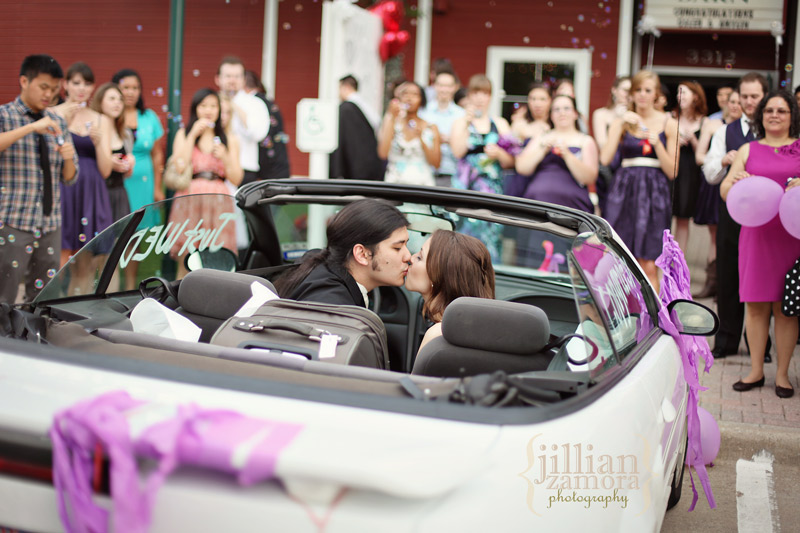 Caleb and Amy, y'all are beautiful together. It was my absolute honor to be able to capture your lovely wedding day.
Best wishes in your marriage!