Yay! I get to post Tiffany's bridals because SHE GOT MARRIED TODAY!
We were going to take the pictures in Aubrey.
Until we passed this field.
I groaned when I passed it.
We had to turn back around. I wouldn't be able to live with myself if we didn't.
Beautiful. The flowers. The light. The bride. All so, so beautiful.
This dress is actually Tiffany's second wedding dress. We did a bridals session with her ceremony dress in March (I'll share some of those images at the end of this post), but this second session with her reception dress we did less than two weeks ago. And that's a good thing because I would have had a terrible time having to sit on these beauties for much longer.
Free, free as the wind blows.
Stun.ning.
I pried myself away from the beautiful wildflowers and we continued on our way to Aubrey. Upon our arrival we were gifted in the form of an empty storage shed.
GIFTED, I say!
Speaking of gifted, guess who took this above image? None other than James Zamora! He came along to the session to practice second-shooting with his new Canon 7D!
With every single image all I can think to myself is, "She is so beautiful." It goes through my mind every time I go through these images.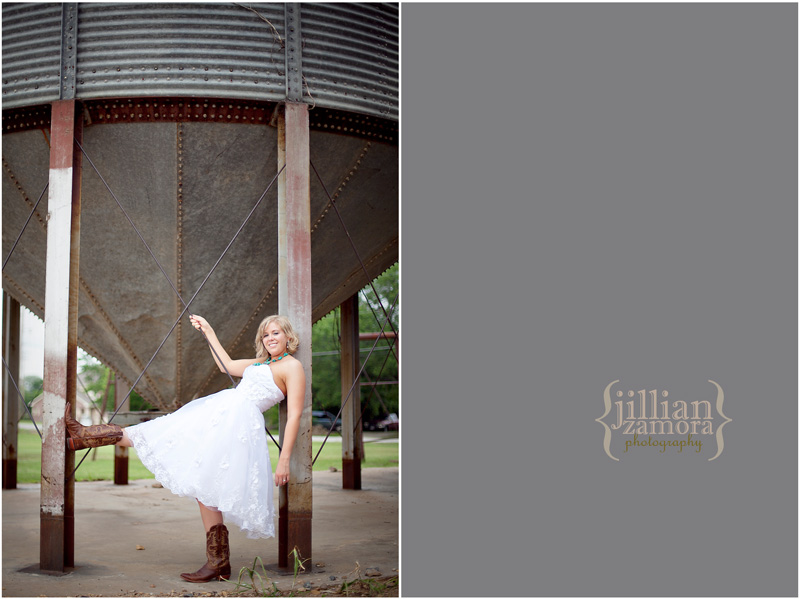 It seriously amazes me every time how fast she can go from beaming bride to stunning model — flip of a switch.
Style change — from cowgirl to girly-girl!
Dang, dang.
And now for a peek at a few from her March session (taken with my Rebel xti)
First off, it was a LOT more dress . . .
She is a princess. Obviously.
A very fun princess — I bet none of the royals saw Kate do this in her princess wedding dress.
You know that feeling you get when something/one is sooooo cute you just want to squeeze them or hug them or at least grit your teeth? Gosh, I hope that's not just me . . . Well, that's how cute I think Tiffany Burnside is in this photo. I just want to squeeze her little cheeks.
I couldn't be happier for you and Trevor, Tiffany. I feel so honored that you chose me to be your wedding photographer and then also chose to call me  your friend. You are such a beautiful bride — inside and out.