You may remember my dear friends, Brittney and Joel, from their FIRST "with this ring" blogpost from last year. That post was from their Justice of the Peace marriage ceremony, followed by a newlywed portrait session. It was such an incredible day to watch unfold.
Two weeks later, Joel returned to his Army post in Alaska and quickly thereafter deployed to Afghanistan.
It was a difficult season. Difficult, but refining, I know Brittney would tell you. I praise Jesus for how He faithfully carried them both through the deployment.
With Joel back it was time for a celebratory wedding, where all of their friends and family were invited to gather around them and all celebrate together this marriage on one crisp December Saturday.
Interesting tidbit about the wedding site — it all took place on my family's farm in Granbury! Because Brittney didn't know the exact date of Joel's return or his resulting leave from Alaska, she couldn't plan far enough in advance to book a standard wedding venue so my parents and PaPa graciously offered to let her have the wedding out on their land.
As if this wasn't enough, my dad also built this ceremony backdrop out of old barn wood that Brittney gathered for the wedding. Isn't my dad so SWEET??
These wintery boutonnieres were crafted entirely by Brittney and bridesmaids the evening before the wedding. Yeah, we're pretty talented like that.
Yes, "we."
I was a bridesmaid. And yes, I was the photographer. I just really couldn't let go of either job so just decided to play both roles!
This gorgeous "Texas-meets-Alaska" bouquet was crafted by my super-talented uncle James of Scott's flowers in Stephenville. Love. It.
Keeping with the other untraditional aspect of the wedding, Brittney's maid of honor was (and still is) serving as a missionary in England but sweet Meagan surprised Brittney with a wedding day phone call while she was getting ready for the day.
Joel and Brittney opted for a first look and Joel's reaction to seeing his bride walk to him in her wedding dress was priceless. One of the things I enjoy most about Joel is that I can constantly see his adoration of Brittney just broadcast across his face — there is no hiding how much that boy treasures that girl.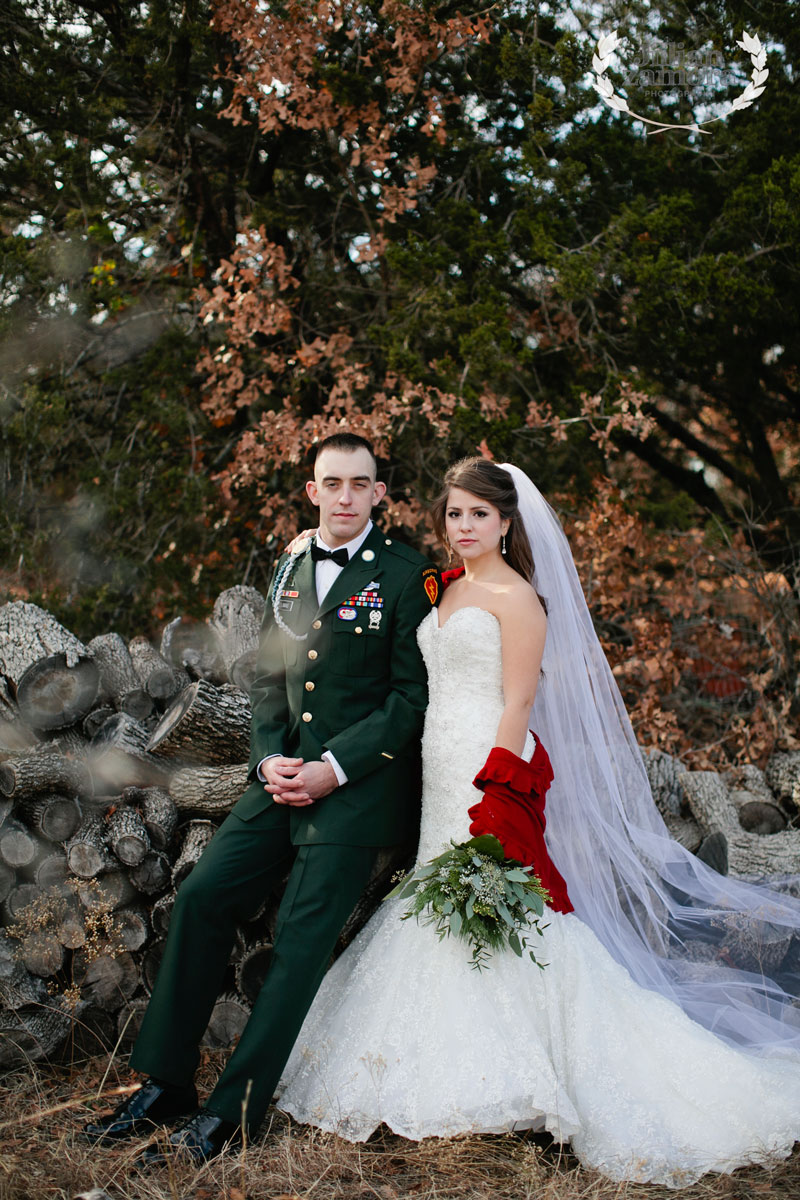 After bride-groom portraits we met back up with the wedding party eagerly waiting on down the road.
Most. adorable. flower girls. And man-oh-man do they adore Ms. Brittney.
Here was the portion of the day when I handed the camera off to James and stepped into some of the photos!
And in just the quickest of moments before the ceremony started I took a swing by the reception tent to snap some detail photos of everything finally all put together.
The following ceremony photos are ALL JAMES because I picked up my bouquet and walked down the aisle to stand next to my friend as she  and her husband declared their marriage vows in front of friends and family.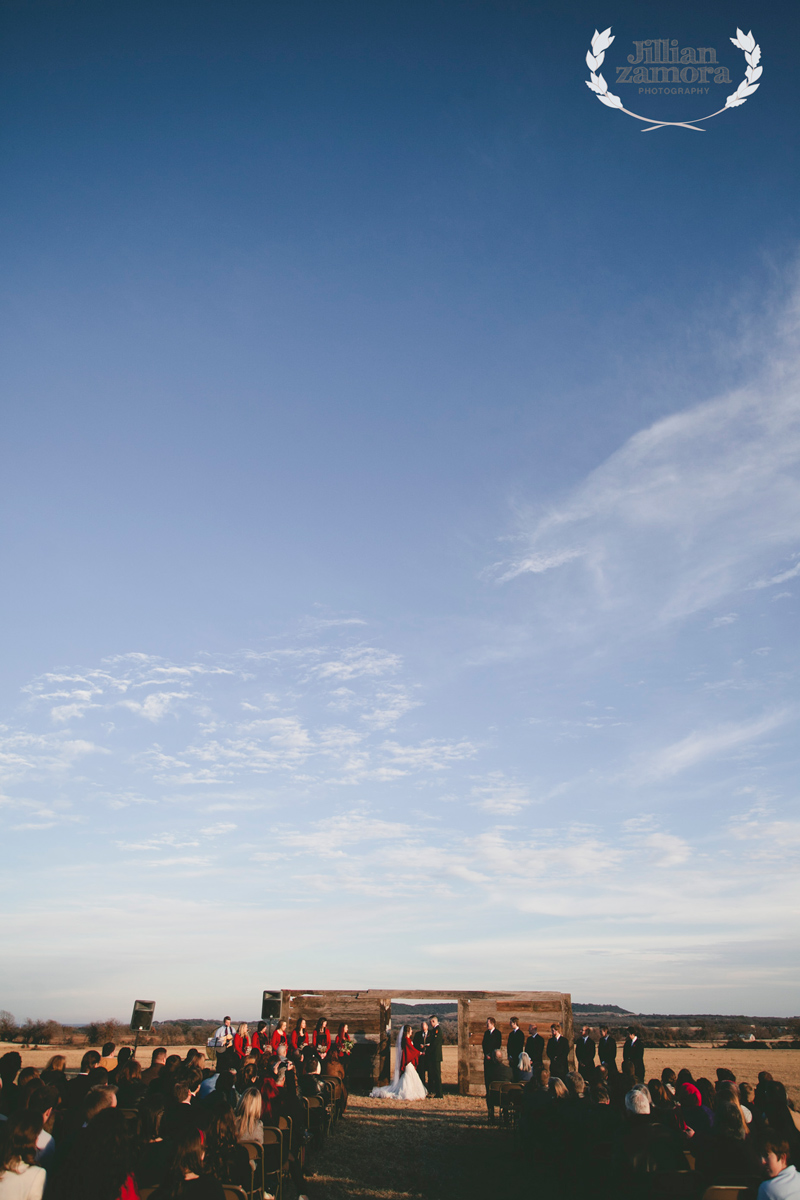 James did SUCH a great job documenting the ceremony all on his own AND (I found out later) simultaneously warding off an asthma attack. Everyone give my asthmatic husband a round of applause.
A super-special portion of the reception was when they played a video (that my talented brother put together for them) that showed a portion of their Justice-of-the-Peace ceremony in it.
 And what a celebration it was, Brittney and Joel.
I'm thankful to have been a part.
This story is an interesting one.
Yes, I believe wholeheartedly that there is something inexplicably incredible about each couple's love story, but this story is especially fun to tell/witness/document.
Brittney is one of the dearest-of-the-dear friends of mine and this is the day she got married.
This was one of the last times she'd receive a phone call from her "Hunky Hunky Fiance," as she would soon change her caller ID to read "Hunky Hunky Husband."
The good thing about photographing your friend's wedding is that you get to both document AND join in on the hugs . . .
Maybe now is a good time to explain the short version of the backstory: Brittney and Joel knew each other in high school but end up losing touch (that was a nice way to put it, right, Brittney?).  Several years pass, Joel's in the Army based in Alaska and one day Brittney watches "Pearl Harbor" and SOMEHOW ends up on the phone with Joel crying and begging him not to die in the Army. This call sparks a friendship that we all watch sloooooowly but surely evolve into a long distance relationship.
That point was the last part of their pre-marriage relationship that I would describe as slow.
Next thing we know Brittney's visiting Joel in Alaska, has gotten engaged, we immediately set a date for their engagement photos when Joel's home on leave before he deployed to Afghanistan and only a couple of weeks after that I get a phone call that went a little something like this: Remember how you're supposed to take our engagement photos when Joel's on leave? Yeah, how would you feel about photographing our justice-of-the-peace wedding ceremony before that? Any scheduling conflicts there? Yeah, no? Good.
The above photo was such a precious moment to witness. Just about everything had gone NOT the way they had planned their day to go leading up to arriving separately at the justice of the peace office but the second they saw each other they wrapped each other up in the biggest of hugs and just held on for several moments. And then everything was alright.
Gosh, I STILL cry looking at these images.
After the JOP ceremony we all went out to a celebratory lunch with a small group of friends and then headed out to take photos as planned — but not as an engaged couple, as newlyweds.
Here are some of the letters Joel and Brittney wrote to each other between Texas and Alaska while they were dating.
Above is a photo of Joel's grandparents from when they were Joel and Brittney's age that Brittney found in Joel's Bible. I love that we found a way to integrate it into their engagement photos.
As with any blogpost, there is more to their story but this will be where I end it for now.
Gosh, my heart is so, so incredibly and happily full for my friends, the Dumas'.
(Oh yes, and perhaps I should mention that these photos were taken juuuuust about a year ago so as to avoid any potential confusion)